Compliance Certification Intensive Course
July 31 - August 2, 2019 - Boca Raton, FL
The HET Difference:
There are a lot of compliance courses that go over the same material without telling you how to use this information to improve your program. Your leadership wants to know how the compliance program contributes to the organization and how your program compares to what others are doing. This course teaches the elements of a compliance program in terms of how you can use them to increase overall organizational effectiveness. Best practices for all program elements are presented.
Faculty:
Certification Intensive Courses include a faculty of experienced compliance professionals, subject matter experts and leaders of key government agencies.
Faculty
(Invited and/or confirmed)
Please return to this page for the latest additions to the faculty.
Lynn Barrett
President, Wrightway Healthcare Professionals
Tracy Field
Partner, Parker, Hudson, Rainer & Dobbs, LLP
Andrew Grosso
Principal, Andrew Grosso and Associates
Donnetta Horseman
Chief Compliance Officer, H. Lee Moffitt Cancer & Research Center
Mark Pastin
CEO, Health Ethics Trust
Dawn Ralph
Compliance Education Coordinator, Brookdale Senior Living
Myla Reizen
Partner, Foley & Lardner, LLP
Jessica Sievert
Assistant US Attorney, Southern District of Florida
Michael Smith
Chief Compliance Officer, EverCare
Robert Westervelt
VP, Operational Audit & Compliance, ACTS Retirement-Life Communities, Inc.
Please return to this page for the latest additions to the faculty.
July 31-August 2, 2019
Boca Raton, FL
Tuition
$1,095 Government / Academic
$1,295 Members
$1,595 Non-Members
or click to download the program brochure below.
(PDF Updated: July 8, 2019)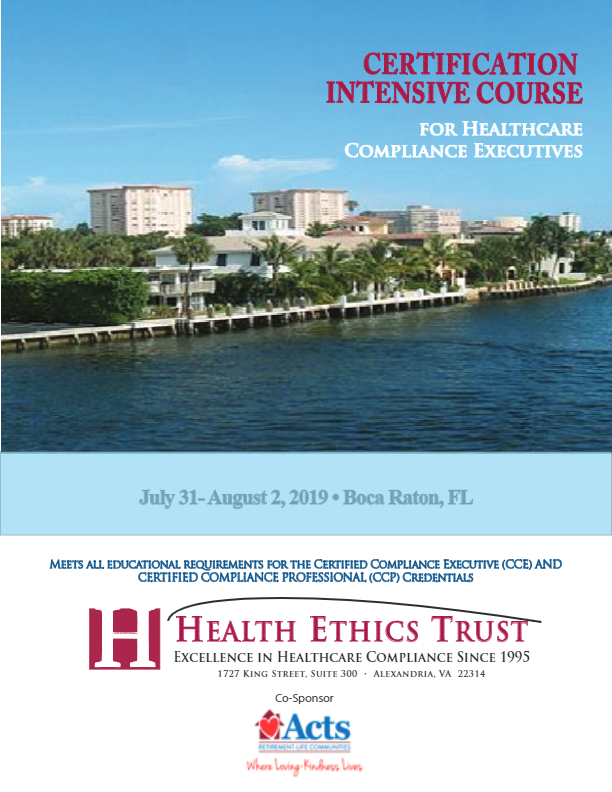 HET Certification:
The Compliance Certification Intensive Course provides innovative education while meeting all of the educational requirements to receive or renew the CCP or CCE credential. The Compliance Certification Intensive Course is also the most cost effective program offered by the Trust. Not only can CCPs and CCEs renew their credential in one sitting; those with certifications through other organizations can earn CEUs (see below) through this course. The design of this program was driven by HET members and the Trust's Education Committee.
Our certification programs began before other folks could spell 'compliance.' Our credentialing programs continue to grow within stable basic assumptions:
Individuals of many backgrounds (law, ethics, accounting, audit, theology, business, military and law enforcement) become effective compliance officers. This diversity is a positive attribute of the field.
Certification is an objective, independent process intended to raise the status of compliance as a field of professional endeavor.
Certification has both educational and experiential components.
Ethics and integrity are essential to the success of compliance professionals.
Continuing Education Units:
Health Ethics Trust Continuing Education Units
Attendance at Certification Intensive Courses has been approved for 30 CEUs towards the Health Ethics Trust's Certified Compliance Professional (CCP) and Certified Compliance Executive (CCE) credentials.
CEU's Towards External Certifications
Health Ethics Trust courses carry credit towards a number of external professional certifications and educational requirements. We anticipate receiving up to 25.2 HCCA credits for this course.
Course Location
The course will be held at St.Andrew's Estates, 6045 S.Verde Trail, Boca Raton, FL.
Hotel Information
A block of rooms has been reserved at the Marriott Boca Raton, 5150 Town Center Circle, Boca Raton, FL, at a group rate of $119.
You may Call Marriott Reservations at 1-800-228-9290 or 561-392-4600 and identify the group as Health Ethics Trust.
The cut-off date for this rate is Friday, June 28, 2019.
Travel
The most convenient airport is Ft. Lauderdale International Airport (FLL), 20 miles south of Boca Raton. The hotel is 2 miles from the conference location; a shuttle to the course will be provided as needed.
Certification Intensive Course Location 2019 - Boca Raton, FL
Choosing a Course is a Big Decision
We welcome your questions. Get in touch by using the linked form below or by calling us at 703-683-7916.