Compliance Certification Intensive Course
July 30 - August 1, 2018 - New Orleans, LA
The HET Difference:
There are a lot of compliance courses that go over the same material without telling you how to use this information to improve your program. Your leadership wants to know how the compliance program contributes to the organization and how your program compares to what others are doing. This course teaches the elements of a compliance program in terms of how you can use them to increase overall organizational effectiveness. Best practices for all program elements are presented.
Faculty:
Certification Intensive Courses include a faculty of experienced compliance professionals, subject matter experts and leaders of key government agencies.
Faculty
(Invited and/or confirmed)
Please return to this page for the latest additions to the faculty.
Corey Amundson
First Assistant U.S. Attorney, Middle District of Louisiana
Thomas Anderson
VP and Chief Legal and Compliance Officer, GuideWell Source
Summer Bell
Chief Compliance Officer, RestorixHealth
Tish Breeding
Integrity and Compliance Officer, Covenant Health
Clay Countryman
Partner, Breazeale, Sachse & Wilson, LLP
Dustin Davis
Assistant Chief, U.S. Department of Justice, Criminal Division, Middle District of LA
Gregory Ehardt
VP and Chief Compliance and Privacy Officer, CHRISTUS Health
Andrew Grosso
Principal Attorney, Andrew Grosso & Associates
Andre Lagarde
Assistant U.S. Attorney, Eastern District of LA
Catherine Maraist
Partner, Breazeale, Sachse & Wilson, LLP
Mark Pastin
CEO, Health Ethics Trust
Alan Stevens
Chief, Criminal Division, U.S. Attorney's Office, Baton Rouge
J. Marc Vezina
Principal Attorney, Vezina Law
Diane Weiss
VP Revenue Integrity & Education, RestorixHealth
Elizabeth White
Assistant U.S. Attorney, U.S. Attorney's Office, Middle District of LA
Please return to this page for the latest additions to the faculty.
July 30 – August 1, 2018
New Orleans, LA
Tuition
$1,095 Government / Academic
$1,295 Members
$1,595 Non-Members
For further program details,
call us at +1 (703) 683-7916
or click to download the program brochure below.
PDF Updated: June 7, 2018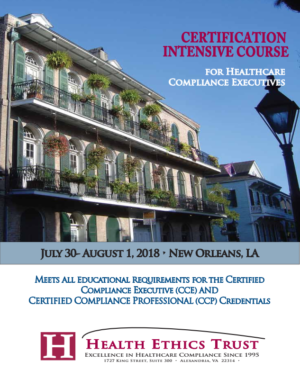 HET Certification:
The Compliance Certification Intensive Course provides innovative education while meeting all of the educational requirements to receive or renew the CCP or CCE credential. The Compliance Certification Intensive Course is also the most cost effective program offered by the Trust. Not only can CCPs and CCEs renew their credential in one sitting; those with certifications through other organizations can earn CEUs (see below) through this course. The design of this program was driven by HET members and the Trust's Education Committee.
Our certification programs began before other folks could spell 'compliance.' Our credentialing programs continue to grow within stable basic assumptions:
Individuals of many backgrounds (law, ethics, accounting, audit, theology, business, military and law enforcement) become effective compliance officers. This diversity is a positive attribute of the field.
Certification is an objective, independent process intended to raise the status of compliance as a field of professional endeavor.
Certification has both educational and experiential components.
Ethics and integrity are essential to the success of compliance professionals.
Continuing Education Units:
Health Ethics Trust Continuing Education Units
Attendance at Certification Intensive Courses has been approved for 24 CEUs towards the Health Ethics Trust's Certified Compliance Professional (CCP) and Certified Compliance Executive (CCE) credentials.
CEU's Towards External Certifications
Health Ethics Trust courses carry credit towards a number of external professional certifications and educational requirements. We anticipate receiving up to 23.4 HCCA credits for this course.
Certification Intensive Course Location 2018 - New Orleans, LA
Choosing a Course is a Big Decision
We welcome your questions. Get in touch by using the linked form below or by calling us at 703-683-7916.