Certified Compliance Executive (CCE)
CCE – The Only Healthcare Compliance Certification Specifically for Compliance Executives
Introduced in 2006, the Trust's advanced CCE healthcare compliance certification is a credential for those who serve as CCOs for organizations or COs of organization components. The need for this advanced certification status continues to grow each year. There is no question that there are different levels of achievement among healthcare compliance professionals and that the highest levels of achievement deserve special recognition.
The CCE healthcare compliance certification process is overseen by HET's Education Committee, which is an independent, voluntary committee of experienced compliance professionals. Members of this committee oversee changes to the certification process as well as reviewing applications for HET certifications.
Compliance Executives who wish to complete the CCE healthcare compliance certification process must complete all requirements within the following five categories within a three-year period to qualify.
Part I – Compliance Experience
Part II – Compliance Community Involvement
Part III – Education Background
Part IV – Continuing Education
Part V – Essay Examination
To apply for the CCP healthcare compliance certification, email a completed application to info@corporateethics.com, or mail a copy your completed application to: Health Ethics Trust, ATTN: Certification, 7205 Regent Drive, Alexandria, VA 22307.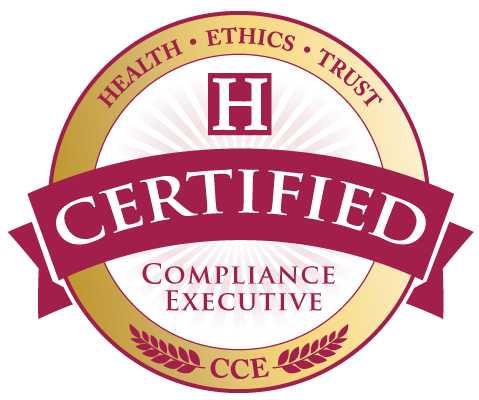 Don't Miss Out
The Washington Executive Certification for Healthcare Compliance Executives is held once a year.
What is the Health Ethics Trust Certified Compliance Executive Process?
This is an advanced healthcare compliance certification process for compliance executives offered by the Health Ethics Trust. The Trust began the process of establishing a basic health care compliance certification shortly after the Trust's inception in 1995. The goal of all HET healthcare compliance certification programs is to promote professionalism, competence and excellence throughout the compliance community. HET is a division of the Council of Ethical Organizations (a non-profit, organization committed to promoting ethical and legal conduct in private organizations, government and professions). The purpose of the Trust is to promote sharing of information and the establishment of best practices in health care compliance and ethics.
Why become a HET Certified Compliance Executive?
Compliance responsibilities continue to grow more complex, more regulated and more costly. New, more rigorous benchmarks for effective programs are demanded. Those who go beyond exhibiting professionalism to providing compliance leadership in this demanding environment deserve recognition commensurate with their contributions.
All HET healthcare compliance certification processes are very comprehensive. The Trust believes this approach is necessary because the compliance executive role is a complex, dynamic and challenging one. This is particularly true for compliance executives working in the current healthcare environment. HET healthcare compliance certification processes are periodically updated to ensure their continued relevance to healthcare compliance professionals and executives.
Who oversees HET certification for compliance executives?
The Trust's healthcare compliance certification processes are overseen by the Education Committee of the Council of Ethical Organizations. This is an independent and voluntary committee of experienced compliance executives (health care and non-health care) from around the country. Members of this committee oversee changes to HET certification criteria as well as reviewing applications for HET certification. Members of the Council staff only serve in an advisory capacity to the Education Committee. This means that they do not having decision making authority regarding HET certification applications. Council staff can, however, offer advice to candidates on how to best prepare and present applications for HET certifications.
How do I become certified as a HET Certified Compliance Executive (CCE)?
In order to earn the CCE certification, an individual must complete compliance related courses and work in a senior compliance position for three years after completing basic certification. While there are additional requirements, the key point is that the CCE certification is intended for those with experience and leadership responsibilities in a compliance program.
The application for the CCE credential is built around specific categories. These factors include executive experience, educational background and continuing education. All items submitted for review with the exception of higher education must have been accomplished in the last three years.
Requirement: A total of 170 points is required in the identified categories to qualify for this Certification. See the application form for categories and point requirements. The points listed to the right of each section indicate the minimum points a candidate must have in each category well as the maximum points associated with category. Please note that you must satisfy the minimum number of points in each category to be qualified. Excess points may be submitted for review but an applicant must have 170 qualified points (meeting all category minimums) to achieve the CCE designation.
Is there a test for CCE Certification?
When sufficient points are accumulated (170) and eligibility is determined, an essay examination will be scheduled on topics such as those in Part IV of the application. The written examination is evaluated by compliance executives serving on the Council of Ethical Organizations /Health Ethics Trust Education Committee.
How are applications reviewed?
Applications for HET healthcare compliance certifications are reviewed by members of the Education Committee of the Council of Ethical Organizations. Responsibility for reviewing applications rotates among members of the Committee. Each application is reviewed by no fewer than three members of the Committee. All applications are reviewed with recognition of the wide range of backgrounds represented among current graduates, while maintaining the Trust's goal of advancing the competence and reputation of health care compliance executives. Committee members judge applications strictly according to the certification criteria.
What are the requirements for maintaining certification?
In 2002, the Education Committee and HET implemented a continuing education requirement for maintaining healthcare compliance certification. This means that all HET Certified Compliance Executives that wish to maintain their certification must meet the continuing education requirements over a defined period of time. The only exception is for individuals who retire while currently certified. This stipulation was introduced because both the Trust and the Committee believe that the field of ethics and compliance is evolving rapidly and continuing education is important to meet the growing challenges in the field of compliance/ethics.
Every three years, all HET Certified Compliance Professionals and Executives are encouraged to apply for continuation of their basic (CCP) or advanced healthcare compliance certification (CCE) status as appropriate at the time.
Certification status is valid for three years. It can be kept current by completion of 40 continuing education points submitted to the Trust within each additional three-year period.
I've attended an HET course. How can I check the status of my course work?
Please contact the Certification Coordinator at 703-683-7916 to request an update of your current certification status or for a list of current HET courses attended.
What cost is involved?
There is an application fee of $300 for non-members and $150 for members of the Health Ethics Trust to process each CCE healthcare compliance certification application. This should be sent with the application. This fee includes the review and evaluation of points and essays. In the event that an applicant does not initially meet the minimum point requirement for essay submission, the fee remains valid for three years to allow time for accumulation of points. There is no charge for re-submission to the Education Committee within this three year period.
What will successful applicants receive?
Successful applicants for the HET Certified Compliance Executive status will be notified by mail. Once applicants are approved, they are entitled to use the designator "CCE" (i.e., Certified Compliance Executive) after their name. HET certified compliance executives are publicly acknowledged at the Healthcare Best Compliance Practices Forum. This Forum is sponsored by the HET and is held in Washington, DC every year. (Visit the Healthcare Best Compliance Practices Forum website further details.)

Compliance professionals who wish to complete the certification process must earn a total of 170 points in the identified categories within a three year period to qualify.
Choosing the Right Certification is Important.
Click the button below to contact us with questions or concerns or call us at 703-683-7916.