COVID-19 for Compliance Professionals: Telemedicine
The Health Ethics Trust is pleased to continue its series of briefings on compliance issues related to the COVID-19 crisis. We thought it would be useful to set out some of the recent guidance provided by OIG, CMS, OCR, and the CDC, among others, to assist you in navigating the laws, rules and regulations with which your organizations have to comply. We are grouping the guidance by the type of organization to which it applies (hospitals, home health, health plan, etc.), although some of the guidance may apply across organization types. These guidance documents are not meant to cover every issue involving a particular organization type, but may serve as a helpful starting point for the compliance issues related to COVID-19. These guidance documents are prepared with the support of Lynn Barrett, Esq., CHC, CCP a private practice attorney and former CCO who speaks at many Trust programs and is active in Compliance Resource Group, Inc. As you know, COV-19 took telehealth from marginal topic to main course. This guidance applies to the many compliance issues affecting telehealth services. Read the telehealth guidance at https://healthethicstrust.com/category/covid-19/. This is a big and complex topic and will be the subject of additional guidance documents.
---
This document focuses on the use of telehealth or telemedicine (The guidance document will refer to these terms collectively as "telehealth.") in the context of COVID-19. This guidance relates solely to certain federal requirements, so your state law will also have to be taken into consideration when dealing with issues discussed in our guidance documents. Please also remember that these changes are the result of and limited to the time period of the public health emergency declaration. In addition, the rules for the provision of telehealth seem to be changing almost daily, so please feel free to contact us at 703-683-7916 or info@heatlhethicstrust.com if you have any specific questions and/or consult CMS' webpage.
Telehealth: The Basics
Medicare & Telehealth: The Way It Was and the Way It Is Now:
Prior to the COVID-19 epidemic, CMS placed a number of restrictions on the use of telehealth in connection with the provision of services to Medicare beneficiaries. Many of these restrictions have now temporarily been either waived or modified as a result of the epidemic. Here is a quick guide to some of CMS's changes that were designed to provide greater access to telehealth services during this crisis. Please remember to check your State's laws before implementing any of the changes set forth below.
1. Who: Eligible Providers & Licensure
Then: Eligible providers have included physicians, NPs, PAs, CNSs, CRNAs, nurse midwives, clinical psychologists and registered dietitians or nutrition professionals. These clinicians were required to be licensed in the state where the patient receiving services via telehealth was located.
Now: While the list of providers who are eligible to utilize telehealth services has not changed, providers can be licensed in any state so long as s/he has a license in good standing and is not under any review or investigation. (This is also subject to state law.)
2. Where: Distant Site (Provider location)
Then: Distant site locations did not include Federally Qualified Health Centers (FQHSs) or Rural Health Clinics (RHCs).
Now: FQHCs and RHCs are approved distant site locations for providers.
3. Where: Originating Site (Beneficiary location)
Then: Patients receiving telehealth generally had to be located in a designated rural health professional shortage area or outside a metropolitan statistical area. In addition, originating sites were limited to places including physician offices, hospitals, FQHCs and RHCs, among other places. Previously, beneficiaries had to leave their home to go to an originating site in order to receive telehealth services.
Now: Telehealth can be provided in any geographic area in the country. Beneficiaries may receive telehealth services in any setting, including, for example, in their homes or in assisted living facilities. As expressed by CMS, "telehealth may be provided all areas of the country in all settings for Medicare beneficiaries."
4. How: Modalities
Then: Telehealth had to been provided by real-time, interactive audio-visual communication.
Now: Beneficiaries may receive telehealth services using smart phone or interactive apps so long as an interactive audio and video system is used. On March 17, 2020, OCR announced that it will not impose penalties for noncompliance with regulatory requirements in connection with the good faith provision of telehealth using any non-public-facing remote communication product, such as FaceTime, Google Hangouts video and Skype (note that Facebook Live, Twitch and TikTok are public-facing). Further, virtual check-ins may be made by audio-only phones, and a provider may evaluate a beneficiary using audio-only phones.
5. What: Telehealth Services
Then: Telehealth services were generally limited to those services set out in the Social Security Act as updated by the Secretary of HHS. Generally, services were limited to office and other outpatient visits, hospital visits, preventative services and other services that generally occur in person.
Now: CMS has expanded the list of services that can be reimbursed through telehealth and, on March 30, 2020, announced the addition of over 80 such services, including ED visits, initial nursing facility and discharge visits, critical care services, initial hospital care and hospital discharge day management, and home visits (so long as the individual providing the services is permitted to provide telehealth services). A complete list of Medicare telehealth services can be found at https://www.cms.gov/Medicare/Medicare-General-Information/Telehealth/Telehealth-Codes.
Additionally:
Virtual Check-ins and E-visits do not require a doctor-patient pre-existing relationship; they can be provided to both new and established patients.
Certain limitations on the frequency of telehealth visits have been removed.
Telehealth can be used to fulfill many of the face-to-face visit requirements for home health, hospice and inpatient rehabilitation facilities.
Remote patient monitoring can be used for patients with COVID-19, as well as patients with acute or chronic conditions and for patients with only one disease.
There a number of additional considerations with respect to the use of telehealth services which we plan to publish in a later guidance document. In the meantime, do not hesitate to contact us at 703-683-7916 or info@heatlhethicstrust.com should you have any questions or if you need assistance to help ensure your facilities maintain compliance with the ever-changing laws, rules, regulations related to COVID-19.
This Years Upcoming Conferences, Webinars, and Courses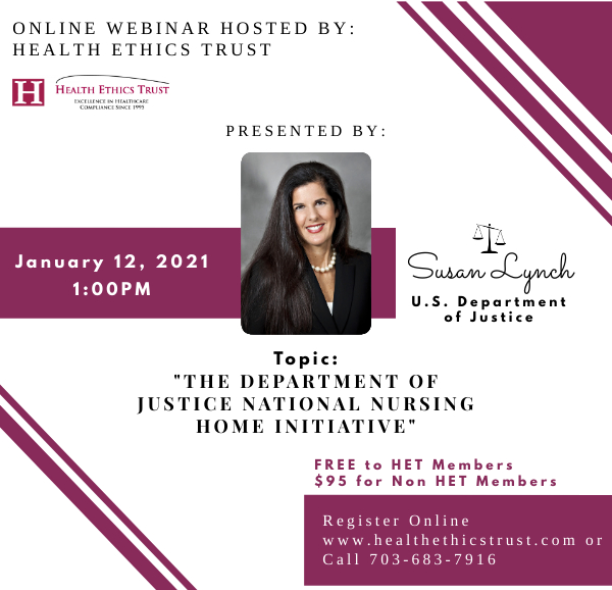 Discussion re: the DOJ National Nursing Home Initiative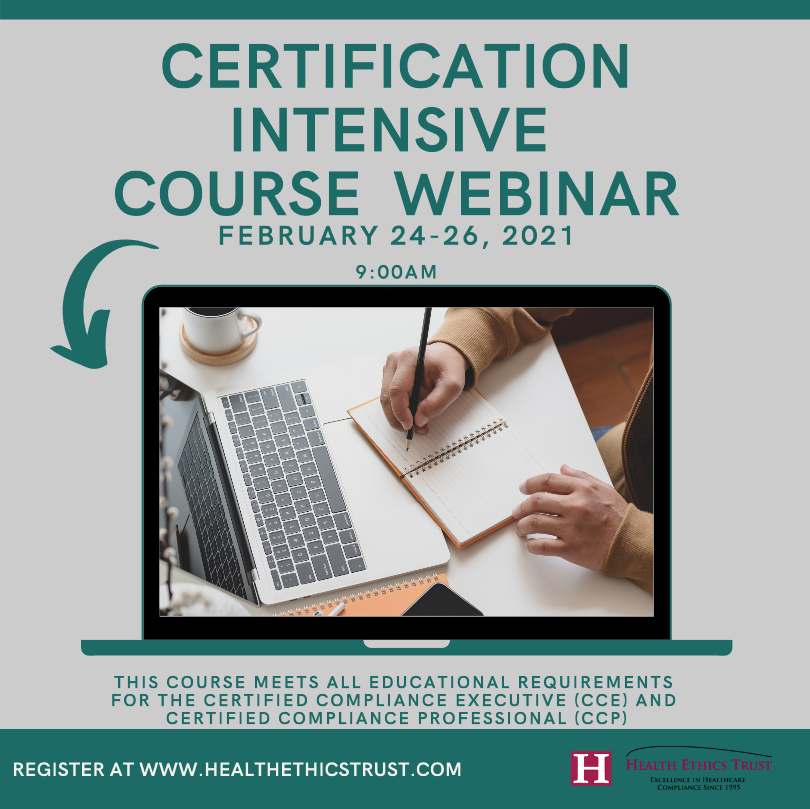 Compliance Certification Intensive Course
Feb 24 - 26, 2021 - Online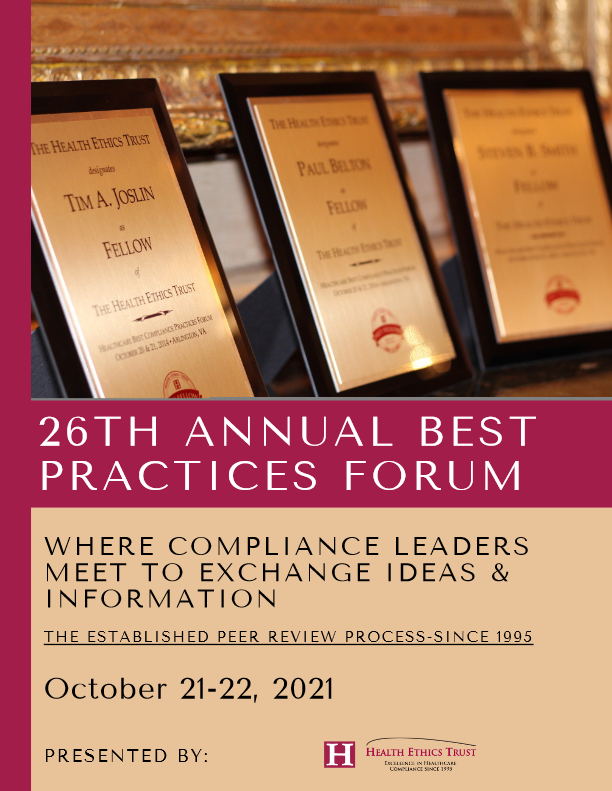 Annual Best Compliance Practices Forum
October 20 - 21, 2021 - Online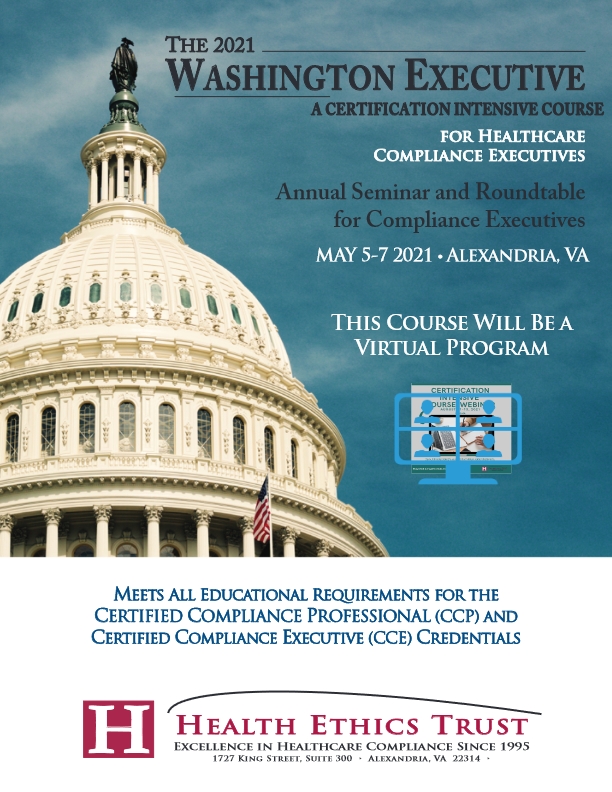 Washington Executive Certification Course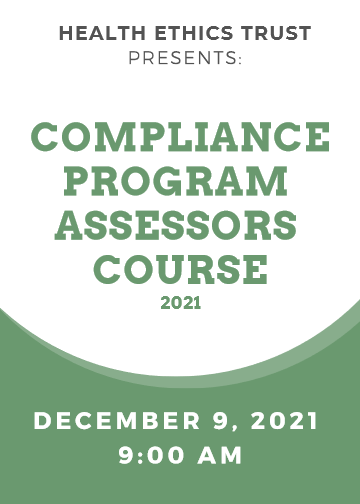 Compliance Program Assessors Course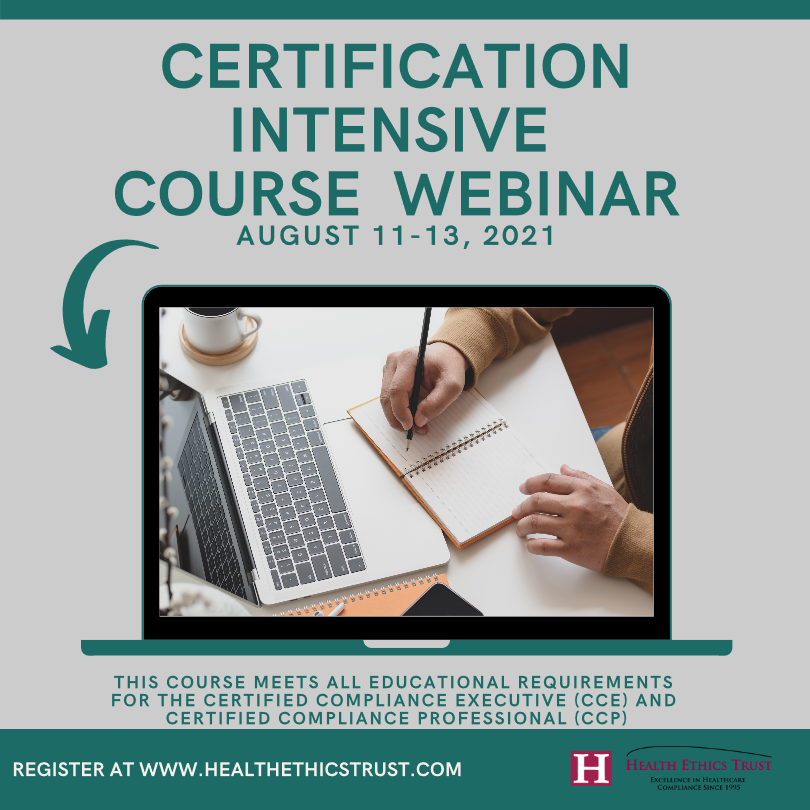 Compliance Certification Intensive Course 2
August  11 - 13, 2021 - Online