COVID-19 for Compliance Professionals: Hospitals
The Health Ethics Trust is pleased to present a series of briefings addressing compliance issues related to the COVID-19 crisis. Specifically, we thought it would be useful to set out some of the recent guidance provided by CMS, OCR, and the CDC, among others, to assist you in navigating the laws, rules and regulations with which your organizations have to comply. For ease of reference, we are grouping the guidance by the type of organization to which it applies (hospitals, home health, health plan, etc.), although some of the guidance may apply across organization types. These guidance documents are not meant to cover every issue or all guidance involving a particular organization type, but may serve as a helpful starting point for the compliance issues related to COVID-19. These guidance documents are prepared with the support of Lynn Barrett, Esq., CHC, CCP a private practice attorney and former CCO who speaks at many Trust programs and is active in Compliance Resource Group, Inc.
In addition, our guidance documents may make reference to one or more "1135 Waivers." These references are only to federal waivers. 1135 Waivers may be blanket waivers, that may require notification, or may be granted on a case by case basis, that require a provider to apply for the waiver. We are happy to provide additional information at your request.
This is the first of a series of guidance documents focusing on certain issues organizations face relating to EMTALA, HIPAA and patients with known or suspected COVID-19. This guidance relates solely to certain federal requirements, so your state law will also have to be taken into consideration when addressing issues discussed in our guidance documents. This first document focuses on hospitals and later guidance documents will look at other kinds of organizations.
Hospitals
1 – EMTALA:
On March 9, 2020, CMS issued guidance regarding EMTALA requirements related to COVID-19. It reminded hospitals, including Critical Access Hospitals, that many of EMTALA's requirements apply notwithstanding the epidemic. For example, hospitals with dedicated emergency departments (DEDs) must still provide every individual who comes to the ED with a medical screening examination (MSE) and stabilizing treatment within their capabilities.
2 – MSE
a. MSEs:
In light of COVID-19, hospitals may set up alternative screening sites on-campus where qualified personnel may conduct the MSEs. In addition, hospitals may set up screening at off-campus, hospital-controlled sites. The CMS guidance provided that an individual who comes to the ED may not be turned away and directed to go to the off-site location. However, in light of Secretary Azar's "Waiver or Modification of Requirements Under Section 1135 of the Social Security Act" (1135 Waiver) on March 13, 2020, hospitals will not be sanctioned if they direct or relocate an individual to another location to receive a MSE pursuant to an appropriate state emergency preparedness plan.
If the MSE determines that the individual may be a possible COVID-19 case, the hospital must immediately isolate the individual.
CMS recommended that CDC's screening guidance be reviewed, which is available at https://www.cdc.gov/coronavirus/2019-nCoV/hcp/clinical-criteria.html. Guidance from public health officials should also be reviewed.
b. Transfers and Stabilizing Treatment:
CMS stated that hospitals should review current CDC and public health official guidance in determining whether they have the capability and to provide appropriate isolation for stabilizing treatment and/or to accept appropriate transfers. Specialized hospitals, however, are expected to accept appropriate transfers if they have the capacity. The 1135 Waiver allows the transfer of an individual who has not been stabilized if the transfer is necessitated by the circumstances of the declared Federal public health emergency for the COVID-19 pandemic.
c. Sanctions:
When determining whether to impose sanctions, CMS will take more of a "totality of the circumstances" approach and list a number of factors it will take into account in its analysis.
3- HIPAA:
A limited waiver of HIPAA sanctions and penalties for hospitals was announced on March 15, 2020 in a "COVID-19 & HIPAA Bulletin." The waiver only applies:
if noncompliance occurred "in the emergency area identified in the public health emergency declaration" (i.e., the entire United States); and
for hospitals that have instituted a disaster protocol; and
for up to 72 hours from the time the hospital implements its disaster protocol.
This limited waiver will not apply in the event the public health emergency declaration is terminated (even if it has not been 72 hours since the hospital implemented its disaster protocol).
If a hospital meets these requirements, there will be no sanctions for hospitals that fail to comply with:
Obtaining a patient's agreement prior to speaking with family members or friends involved in the patient's care (45 C.F.R. § 164.510(b));
Honoring a request to opt out of the facility directory (45 C.F.R. § 164.510(a));
Distributing a notice of privacy practices (45 C.F.R. § 164.520);
Honoring a patient's right to request privacy restrictions (45 C.F.R. § 164.522(a)); and
Honoring a patient's right to request confidential communications (45 C.F.R. § 164.522(b)).
The Bulletin also provides guidance on a number of other HIPPA provisions that are not subject to the waiver and are still in full force and effect.
4 – PATIENT TRIAGE, PLACEMENT and HOSPITAL DISCHARGE:
ON March 4, CMS provided guidance and FAQs on how hospitals should be triaging, placing, and discharging patients with known or suspected COVID-19. Among other recommendations, CMS made the following recommendations and provided guidance with respect to:
How hospitals should screen visitors and patients for COVID-19;
How hospitals should monitor or restrict staff;
How to place patients with suspected COVID -19; and
How to discharge patients with COVIS-19 to subsequent care locations
The CMS recommended that hospitals should monitor the CDC website and contact local health departments if there are any questions or if there is a case of suspected COVID-19.
There are a number of additional considerations for hospitals which we plan to publish in a later guidance document. In the meantime, please do not hesitate to contact us should you have any questions or if you need assistance to help ensue your facilities maintain compliance with the ever-changing laws, rules, regulations related to COVID-19.
You can reach us at 703-683-7916 or at info@healthethicstrust.com.
This Years Upcoming Conferences, Webinars, and Courses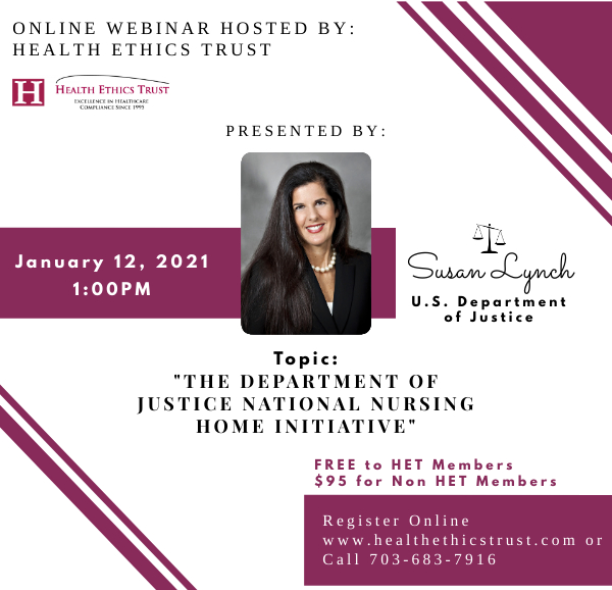 Discussion re: the DOJ National Nursing Home Initiative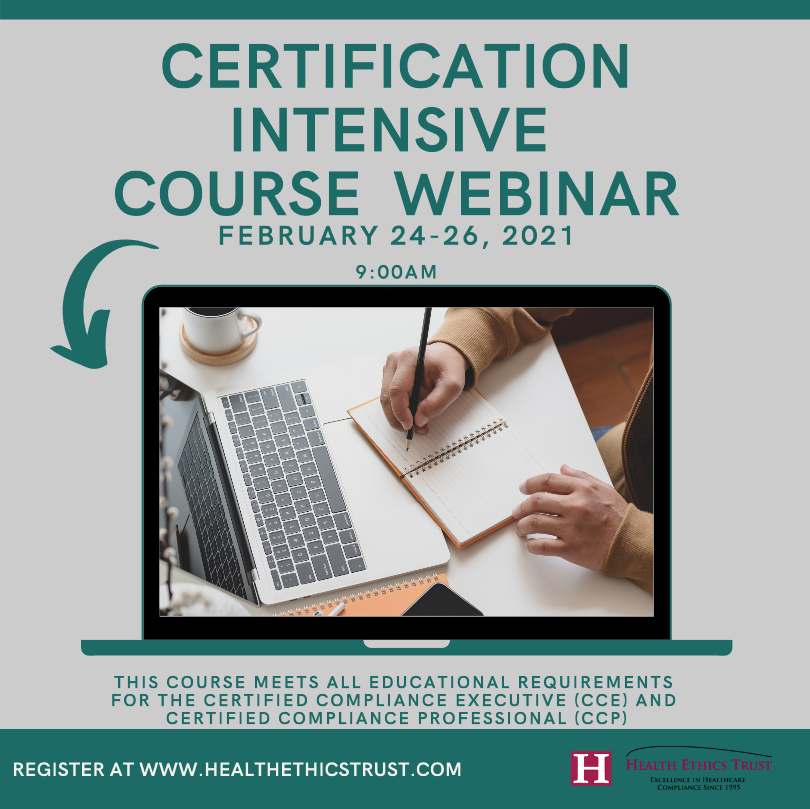 Compliance Certification Intensive Course
Feb 24 - 26, 2021 - Online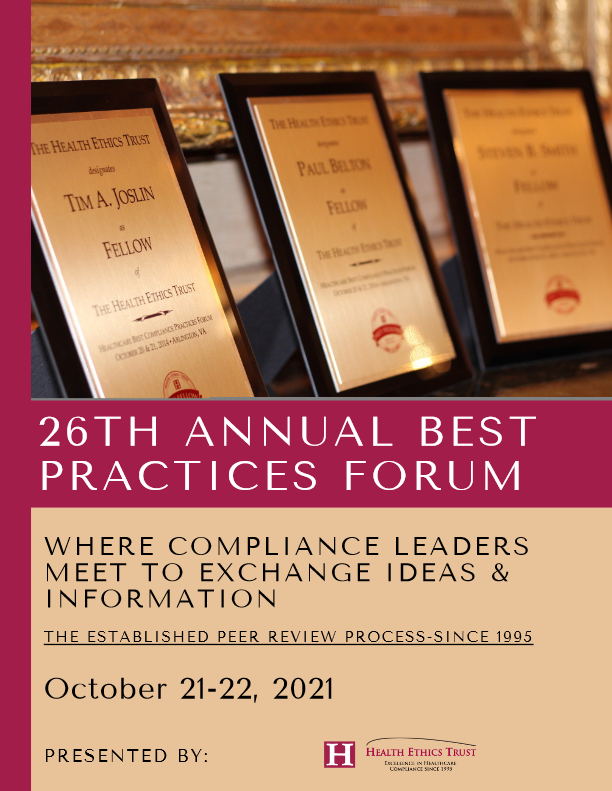 Annual Best Compliance Practices Forum
October 20 - 21, 2021 - Online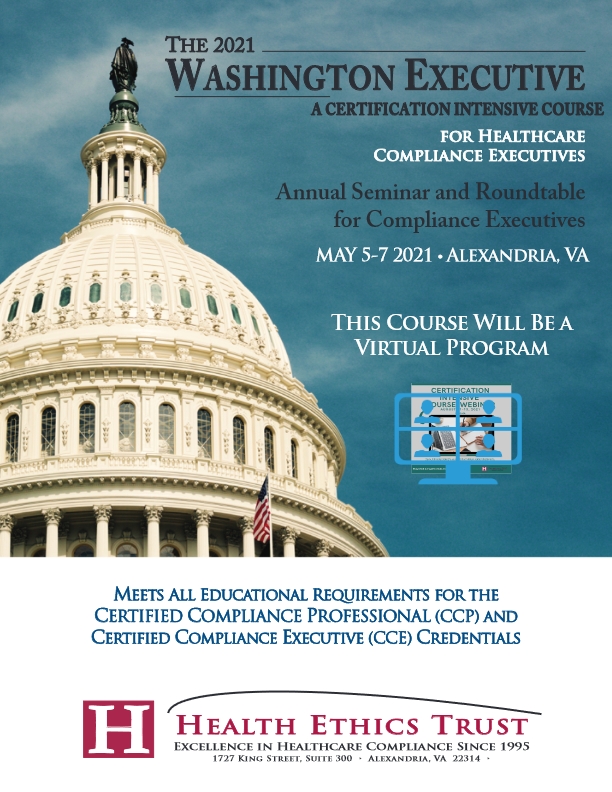 Washington Executive Certification Course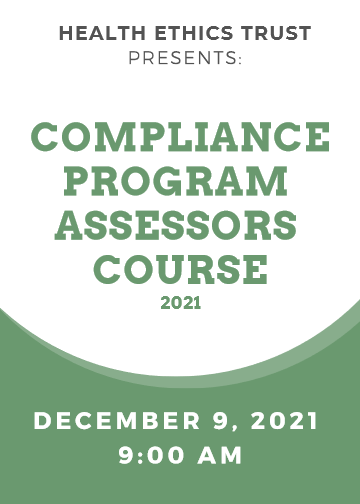 Compliance Program Assessors Course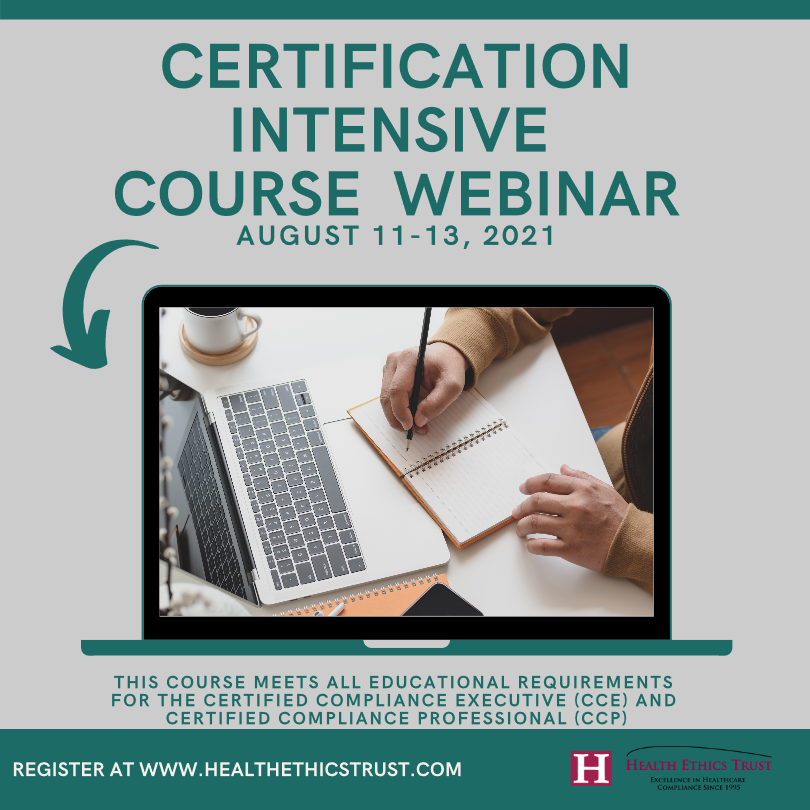 Compliance Certification Intensive Course 2
August  11 - 13, 2021 - Online